---

S O L D

---
Clive has been a jeweler for many years and we had the opportunity to meet him in one of our early visits to the Zuni reservation. He was working in a trading post just north of the Zuni border. We bought a few carvings from him, as his brother Travis had started showing him the carving ropes and you can see one of those carvings, an alligator of magnesite hematite, in our book "Z U N I S P I R I T S: A Portfolio Of Fine Zuni Fetish Carvings", which can be found at: this link. Clive has not carved very many fetishes over the years, rather he works mostly on his beautiful jewelry creations.
This carving is a rather large hawksbill sea turtle created from a light green piece of serpentine. The segments of the shell are decorated by the migration spiral common to the rock art petroglyphs and pictographs found all over the American Southwest. The carapace is also segmented on the turtle's belly.
Clive makes the eye inlaid with Sleeping Beauty turquoise, which is then inlaid again with gem lapis, sharing another common trait with Travis' carvings. This cool fetish carving is signed C LASILOO on the bottom. Be sure to add this to your collection for it may be quite a while until you see another hawksbill turtle online!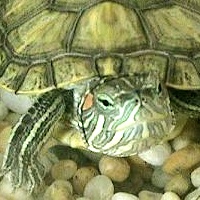 If you would like to read more about the Turtle's characteristics and attributes click here. And click here to hear "Turtle" in Shiwi, the language of Zuni.
Video: No, but view other videos here.
Zuni Carver: Clive Lasiloo
Dimensions: 4 7/8"L x 1"T x 2 5/16"W
Shipping costs: $ 11.25 + depending on your location
Plus state sales tax to Texas residents!
Please keep in mind that we ONLY accept online payments (credit/debit/e-check) via www.paypal.com. You may send your check or money order if you prefer a manual payment. Just alert us to that fact when you place your order. Additionally, please remember that we ship ONLY via USPS. Domestic parcels go via Priority/insured. Foreign parcels can go either Priority International (NO INSURANCE) or via Priority Express (INSURED up to $500.) Shipping prices are determined by the value of your parcel.




Need more information? Order link won't work? Have a question about ordering, payment or shipping? Email us! If the link will not work for you, here are our email addresses:

david at zunispirits dot com
or zunispirits at yahoo dot com