---

Click to email your order for this Bear
OR email us at zunispirits at yahoo dot com
Click here for more "HOW TO ORDER" info

---
It is hard NOT to like the old style traditional fetishes once the story is understood. Teddy Weahkee (d.) and Edna Leki (d.) taught their younger generations that story and showed them the way to produce it in stone. Those artisans continue the educational process for their relations today. Lena Boone and sister Dinah Gasper, and brother Anderson Weahkee (d.) have passed their knowledge to their children and it will continue ad infinitum as this is the Zuni way. Merging the old style with the new technology isn't easy but this carving family is sticking to what they have been taught.
This bear is carved with its appearance rooted in that older style and coupled with present-day polishing techniques and the tools of our current technology. Anderson has preserved that ancient look, and at the same time also added contemporary adornment and finish. One could suppose that it is simultaneously both prehistoric and modern art. This carving is pictured in the book ZUNI FETISH CARVINGS by Dr. Harold Finkelstein on page 9 picture number 24. It comes with an aadditional certificate of authenticity from him as well as one from Zuni Spirits!
The eyes and nostrils are inlaid of Sleeping Beauty turquoise, and the modern offering bundle of the hunt consists of a gold-lipped Mother-of-pearl arrowhead with an elaborate combination of branch red coral, turquoise and heishe beads tied with sinew. This is quite an opportunity to acquire a LARGE modern rarity. It weighs in at over 1/3 LB!!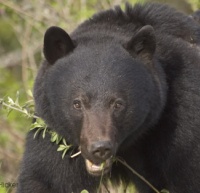 If you would like to read more about the Bear's characteristics and attributes click here. And click here to hear "Bear" in Shiwi, the language of Zuni.
Video: No, but view other videos here.
Zuni Carver: Anderson Weahkee (d.)
Dimensions: 4 1/16"L x 2 1/4"T x 7/8"W
Domestic Shipping costs: $17.00 + depending on your location
Plus 6.75% state sales tax to Texas residents!
Please keep in mind that we ONLY accept online payments (credit/debit/e-check) via www.paypal.com. You may send your check or money order if you prefer a manual payment. Just alert us to that fact when you place your order. Additionally, please remember that we ship ONLY via USPS. Domestic parcels go via Priority/insured. Foreign parcels can go either Priority International (NO INSURANCE) or via Priority Express (INSURED up to $500.) Shipping prices are determined by the value of your parcel.




Need more information? Order link won't work? Have a question about ordering, payment or shipping? Email us! If the link will not work for you, here are our email addresses:

david at zunispirits dot com
or zunispirits at yahoo dot com