---

S O L D

---
Larimar is said to be a relic of the lost continent of Atlantis and is a rare blue variety of pectolite found only in the Caribbean. Volcanic in origin, the most important outcrop of blue pectolite is located at Los Chupaderos, in the section of Los Checheses, about 10 kilometers southwest of the city of Barahona, in the south-western region of the Dominican Republic. The stone is formed when hot gases push crystallized minerals up though volcanic tubes. In order to mine and excavate the stone miners must identify these tubes and dig deeper and deeper into old volcanoes. In this a single mountainside is now perforated with approximately 2,000 vertical shafts, surrounded by rainforest vegetation and deposits of blue-colored mine tailings. Mining the stone is extremely difficult. Not only does the location of the mines make them extremely difficult to access, but the area is subject to the hurricane season, often causing the mines to be closed for 5 months out of the year. The stone must be mined by hand because dynamite or heavy machinery can destroy it. So excavation is extremely labor intensive. Miners, using only hand tools, must find and follow the small veins of Larimar. The best quality stone is often found as far as one hundred feet below the surface, digging through all that rock by hand obviously takes quite a bit of time. There is a finite amount of this beautiful gemstone left underground. Its Caribbean blue color makes it highly desirable, rare as a fetish carving stone and very, very collectable.
Larimar's beautiful colors mirror the blue and white shades of the ocean and sky. The word Larimar was created by the co-discoverer of the stone, Miguel Mendez, who combined the name of his daughter Larissa with the Spanish word Mar for sea. Larimar is used most often to make jewelry but here we have the frog meister, Ricky Laahty, creating a Zuni fetish from this valuable stone. Ricky makes his trademark froggie eyes from gold-lipped Mother-of-pearl and jet. The frog is signed Ricky Laahty very faintly.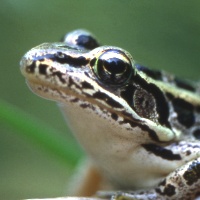 If you would like to read more about the frog's characteristics and attributes click here. And click here to hear "frog" in Shiwi, the language of Zuni.
Video: No, but view other videos here.
Zuni Carver: Ricky Laahty
Dimensions: 7/16"L x 11/16"T x 1 1/4"W
Shipping costs: $ 10.00 + depending on your location
Plus state sales tax to Texas residents!
Please keep in mind that we ONLY accept online payments (credit/debit/e-check) via www.paypal.com. You may send your check or money order if you prefer a manual payment. Just alert us to that fact when you place your order. Additionally, please remember that we ship ONLY via USPS. Domestic parcels go via Priority/insured. Foreign parcels can go either Priority International (NO INSURANCE) or via Priority Express (INSURED up to $500.) Shipping prices are determined by the value of your parcel.




Need more information? Order link won't work? Have a question about ordering, payment or shipping? Email us! If the link will not work for you, here are our email addresses:

david at zunispirits dot com
or zunispirits at yahoo dot com
The Zuni Fetish Story
If you're new to Zuni fetish collecting and interested in learning more about them, we have written a short article about Zuni fetishes and what they mean to the Zuni culture. CLICK HERE to read the article on Zuni fetishes.

Zuni Fetish Meanings
We've written this article to inform Zuni fetish collectors about the specific meanings and attributes of the more traditional Zuni fetish carvings. CLICK HERE to read the article on Zuni fetish meanings.

The Zuni Language
If, as a Zuni fetish collector, you haven't had the opportunity visit Zuni Pueblo but would enjoy hearing some words in the Zuni language, we hope you'll findthis article interesting and informative. CLICK HERE and turn up your volume to enjoy!
The Zuni Spirits Blog
In an effort to keep our collectors informed of new arrivals, posts of interest to Zuni fetish collectors, the latest critters to visit our east Texas woods, rants, raves and rambles will be published HERE at the Zuni Spirits Blog. You may subscribe (& unsubscribe) at this link.




***************
^ Back to the top ^


***************



ZUNI SPIRITS - FINE ZUNI FETISHES DIRECTLY FROM ZUNI PUEBLO, NM
P. O. Box 337, Grapeland, TX 75844


All rights reserved © - Zuni Spirits & David Austin Riggs - 1999 - 2012
Celebrating 13 years of PASSION for Zuni fetishes!
Page last updated: