---

S O L D

---
One of the problems we as Zuni fetish traders encounter from time to time is that often times what a stone is named from a supplier of raw materials is correct, sometimes it colloquially has a nickname, or is named for a mine or, as we have found out about this so-called "Vietnamese Jasper", is an outright fabrication. We fell for it hook, line and sinker just like many out there in Cyberland have also done. It is one of the problems we see in this business but when we find out the truth, we feel we must set the record straight, so here goes our best shot.
There seems to be an awful lot of names for this stone. Mariam stone, Mariam jasper, Mariyam jasper, Elephant skin jasper, India script stone, Arabic script stone, and Coquina jasper are but a few. Coquina jasper is a better desription of the stone and is a more accurate term! Coquina is the Spanish word for cockleshells or shellfish. This jasper is full of coquina fossilized clams. and the patterns in the rock are of fossilized coquinashells. In the magazine Lapidary Journal (Jan/Feb 2012) it is called Coquina jasper. According to the article, it is not a jasper, it is limestone with neat fossils embedded in it. Quote: With a hardness of 3, limestone is much softer than jasper - coquina is more like a marble than a jasper in that it is a sedimentary rock that has been transformed under pressure to something harder and more durable but not as hard or durable as quartz. Unquote. Many rock cutters have stated that the stone fractures along the shell lines when slicing it for jewelry applications. Most So there you have it. The one thing that is certain and for sure is it is NOT Vietnamese jasper, and I personally must apologize for sustaining and perpetuating this falsehood. Now back to the description of this cute fetish!
Lynn is another extremely talented modernistic artist from the Pueblo of Zuni. His buffalo carvings are sleek and stylish renditions of the American bison and they feel smooth yet energetic in the hand. The eyes of the bison are inlaid of Sleeping Beauty turquoise and the fetish is unsigned, which is a rarity for Lynn. Normally he initials his pieces but not in this instance. The style is unmistakeable.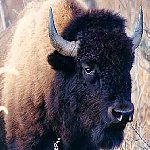 If you would like to read more about the Buffalo's characteristics and attributes click here. And click here to hear "buffalo" in Shiwi, the language of Zuni.
Video: No, but view other videos here.
Dimensions: 1 3/4"L x 1 1/8"T x 5/8"W
Shipping costs: $ 9.25 + depending on your location
Plus state sales tax to Texas residents!
Please keep in mind that we ONLY accept online payments (credit/debit/e-check) via www.paypal.com. You may send your check or money order if you prefer a manual payment. Just alert us to that fact when you place your order. Additionally, please remember that we ship ONLY via USPS. Domestic parcels go via Priority/insured. Foreign parcels can go either Priority International (NO INSURANCE) or via Priority Express (INSURED up to $500.) Shipping prices are determined by the value of your parcel.




Need more information? Order link won't work? Have a question about ordering, payment or shipping? Email us! If the link will not work for you, here are our email addresses:

david at zunispirits dot com
or zunispirits at yahoo dot com
The Zuni Fetish Story
If you're new to Zuni fetish collecting and interested in learning more about them, we have written a short article about Zuni fetishes and what they mean to the Zuni culture. CLICK HERE to read the article on Zuni fetishes.

Zuni Fetish Meanings
We've written this article to inform Zuni fetish collectors about the specific meanings and attributes of the more traditional Zuni fetish carvings. CLICK HERE to read the article on Zuni fetish meanings.

The Zuni Language
If, as a Zuni fetish collector, you haven't had the opportunity visit Zuni Pueblo but would enjoy hearing some words in the Zuni language, we hope you'll findthis article interesting and informative. CLICK HERE and turn up your volume to enjoy!
The Zuni Spirits Blog
In an effort to keep our collectors informed of new arrivals, posts of interest to Zuni fetish collectors, the latest critters to visit our east Texas woods, rants, raves and rambles will be published HERE at the Zuni Spirits Blog. You may subscribe (& unsubscribe) at this link.




***************
^ Back to the top ^


***************



ZUNI SPIRITS - FINE ZUNI FETISHES DIRECTLY FROM ZUNI PUEBLO, NM
P. O. Box 337, Grapeland, TX 75844


All rights reserved © - Zuni Spirits & David Austin Riggs - 1999 - 2012
Celebrating 13 years of PASSION for Zuni fetishes!
Page last updated: