---

S O L D

---
It is difficult not to be drawn to the smooth, elegant and modernistic lines of Lynn's carvings of buffaloes. The black Picasso marble stones is heavy in the hand and hard to put down.
The eyes are inlaid of Sleeping Beauty turquoise and the horns are crafted from fossil ivory. The fetish is initialed LQ on the bottom in his typical manner. This is a fine fetish carving from Zuni Pueblo.
Video: No, but view other videos here.
Price WAS: $75. | SALE PRICE: $45.
Dimensions: 2 1/4"L x 1 7/16"T x 13/16"W
Shipping costs: $8.50 + depending on your location
Plus state sales tax to Texas residents!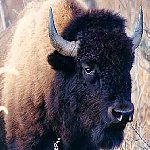 If you would like to read more about the Buffalo's characteristics and attributes click here. And click here to hear "Buffalo" in Shiwi, the language of Zuni.
Please keep in mind that we ONLY accept online payments (credit/debit/e-check) via www.paypal.com. You may send your check or money order if you prefer a manual payment. Just alert us to that fact when you place your order. Additionally, please remember that we ship ONLY via USPS. Domestic parcels go via Priority/insured. Foreign parcels can go either Priority International (NO INSURANCE) or via Priority Express (INSURED up to $500.) Shipping prices are determined by the value of your parcel.




Need more information? Order link won't work? Have a question about ordering, payment or shipping? Email us! If the link will not work for you, here are our email addresses:

david at zunispirits dot com
or zunispirits at yahoo dot com