---

S O L D

---
We sold this fetish to a good customer who had it for approximately a year and one day it fell into two pieces for no apparent reason. We had her send it to us and upon inspection the stone had a boundary interuption, for lack of a better term, where one type of deposited calcium caronate changed ingredients in time and the sea floor had a reversal of direction. Deposits from say the north suddenly became deposits from say the south. In between those two time frames the borders were separated by a deposit that was less stable and unable to remain cemented even though compressed by the weight of the layers above. once eroded the stone you see was selected for carving. It is a pretty color combination and Jayne created a wonderful carving from it.
We sent to stone to Jayne and she repaired the separation with modern epoxies and rebuffed the fetish to the fetish you see today. It has een expertly repaired better than new and highly unlikely to fall apart ever again. The eyes are inlaid of Sleeping Beauty turquoise the five inlaid dots are inlaid of lapis, gaspeite, blue turtquoise, Sleeping Beauty turquoise and jet. The moon is inlaid of malachite and the spiral migration symbol is inlaid of crushed turquoise. The fetish remains unsigned however Jayne is well known for her trademark quality inlay and quality workmanship.
It has always been our policy to never sell a repaired fetish however we felt this bear deserved a good home and having Jayne make the repair justifies our reason for reselling this rehabilitated bear. We hope you feel the same way.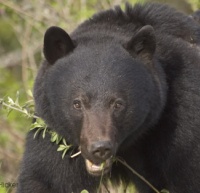 If you would like to read more about the Bear's characteristics and attributes click here. And click here to hear "Bear" in Shiwi, the language of Zuni.
Video: No, but view other videos here.
Material: Banded Dolomite
Dimensions: 2 13/16"L x 1 5/16"T x 5/8"W
Shipping costs: $10.00 + depending on your location
Plus 6.75% state sales tax to Texas residents!
Please keep in mind that we ONLY accept online payments (credit/debit/e-check) via www.paypal.com. You may send your check or money order if you prefer a manual payment. Just alert us to that fact when you place your order. Additionally, please remember that we ship ONLY via USPS. Domestic parcels go via Priority/insured. Foreign parcels can go either Priority International (NO INSURANCE) or via Priority Express (INSURED up to $500.) Shipping prices are determined by the value of your parcel.




Need more information? Order link won't work? Have a question about ordering, payment or shipping? Email us! If the link will not work for you, here are our email addresses:

david at zunispirits dot com
or zunispirits at yahoo dot com