---

S O L D

---
Murano glass is glass made on the Venetian island of Murano, which has specialized in fancy glasswares for centuries. The reputation of Murano as a center for glassmaking was born when the Venetian Republic, fearing fire and destruction of the city's mostly wooden buildings, ordered glassmakers to move their foundries to Murano in 1291.
Lena takes shards of broken Murano glass and crafts them into Zuni fetishes. In this case she has created a bear of a yellow, green and blue splash of color on one side. The other has red and blue shards over the cream colored reverse of the first side. it is quite mesmerizing and one of my personal favorite Murano bears from Lena. It is bulky, weighing in at 2.9 ounces.
The eyes are inlaid of Sleeping Beauty turquoise and the offering bundle consists of a spiney oyster shell arrowhead with red coral and turquoise beads tied with sinew. As is typical of the carver and family more often than not, the fetish is unsigned.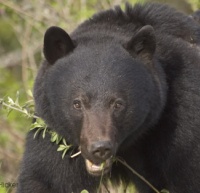 If you would like to read more about the Bear's characteristics and attributes click here. And click here to hear "Bear" in Shiwi, the language of Zuni.
Video: No, but view other videos here.
Dimensions: 3"L x 1 3/4"T x 1/2"W
Shipping costs: $10.00 + depending on your location
Plus 6.75% state sales tax to Texas residents!
Please keep in mind that we ONLY accept online payments (credit/debit/e-check) via www.paypal.com. You may send your check or money order if you prefer a manual payment. Just alert us to that fact when you place your order. Additionally, please remember that we ship ONLY via USPS. Domestic parcels go via Priority/insured. Foreign parcels can go either Priority International (NO INSURANCE) or via Priority Express (INSURED up to $500.) Shipping prices are determined by the value of your parcel.




Need more information? Order link won't work? Have a question about ordering, payment or shipping? Email us! If the link will not work for you, here are our email addresses:

david at zunispirits dot com
or zunispirits at yahoo dot com