---

S O L D

---
Just recently the cable program How It Is Made had a section of the show dedicated to glass blowing. They had a Canadian pair of artists showing the process of making Murano styled glass. The process actually originated in Babylon but the Italian glassmakers of the medieval period found out how to make it. It is an arduous process of making thin glass rods then cutting them to length, some of which are twisted into spiral multicolored rods. Then the artist lines the rods up and then joins them around a vase or pot. The twisting and remelting continues until the desired glass object is made. The resulting piece is often times very thick and bubbles are very common within the glass.
Located a mile from the city of Venice, Italy, Murano has been a commercial port since as far back as the 7th century. It is believed that glassmaking in Murano originated in 8th-century Rome, with significant Asian and Muslim influences, as Venice was a major trading port. Murano glass is similar to the 1st-century BC Greek glasses found in the shipwreck of Antikythera.
Lena takes shards of broken Murano glass and crafts them into Zuni fetishes. In this case she has created a large bear from orange, white and clear glass weighing in at 2.1 ounces! The eyes are inlaid of Sleeping Beauty turquoise and as is typical more often than not, the fetish is unsigned.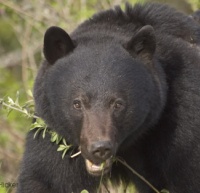 If you would like to read more about the Bear's characteristics and attributes click here. And click here to hear "Bear" in Shiwi, the language of Zuni.
Video: No, but view other videos here.
Zuni Carver: Lena & Evalena Boone
Dimensions: 3 1/2"L x 1 1/2"T x 1/2"W
Shipping costs: $9.25 + depending on your location
Plus 6.75% state sales tax to Texas residents!
Please keep in mind that we ONLY accept online payments (credit/debit/e-check) via www.paypal.com. You may send your check or money order if you prefer a manual payment. Just alert us to that fact when you place your order. Additionally, please remember that we ship ONLY via USPS. Domestic parcels go via Priority/insured. Foreign parcels can go either Priority International (NO INSURANCE) or via Priority Express (INSURED up to $500.) Shipping prices are determined by the value of your parcel.




Need more information? Order link won't work? Have a question about ordering, payment or shipping? Email us! If the link will not work for you, here are our email addresses:

david at zunispirits dot com
or zunispirits at yahoo dot com