---

S O L D

---
Howlite is often carved to produce decorative objects. It is a fairly inexpensive material and large nodules resembling cauliflower heads have been found in California in pieces as large as 50 kilograms. Though howlite has also been found in Nova Scotia in Canada, most of the material on the market comes from sites in Los Angeles and San Bernardino counties in California.
Since howlite is fairly porous it can be easily dyed to imitate other minerals. Due to the distinctive veining, howlite dyed a blue color makes a fairly convincing turquoise simulant. However howlite is a much softer stone than turquoise. The hardness of turquoise is 5 to 6 wheras howlite's is only 3.5. Therefore, it can be identified from such inauthentic turquoise. Howlite has also been dyed deep-blue to simulate lapis lazuli or red to imitate coral. Howlite is also sold in its natural state, sometimes under the misleading trade names of white turquoise or white buffalo turquoise, or the derived name white buffalo stone.
Andres gave the bear motion by positioning the head as if the bear was making sure no other bears were trying to steal its meal. The eyes and the fish are made from Sleeping beauty turquoise and the eye of the fish is inlaid of jet. The fetish is unsigned which was common for the artist and family. It was originally purchased in 2002.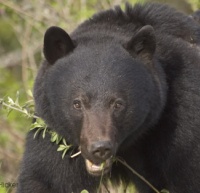 If you would like to read more about the Bear's characteristics and attributes click here. And click here to hear "Bear" in Shiwi, the language of Zuni.
Video: No, but view other videos here.
Dimensions: 1 7/8"L x 7/8"T x 3/4"W
Shipping costs: $8.50 + depending on your location
Plus 6.75% state sales tax to Texas residents!
Please keep in mind that we ONLY accept online payments (credit/debit/e-check) via www.paypal.com. You may send your check or money order if you prefer a manual payment. Just alert us to that fact when you place your order. Additionally, please remember that we ship ONLY via USPS. Domestic parcels go via Priority/insured. Foreign parcels can go either Priority International (NO INSURANCE) or via Priority Express (INSURED up to $500.) Shipping prices are determined by the value of your parcel.




Need more information? Order link won't work? Have a question about ordering, payment or shipping? Email us! If the link will not work for you, here are our email addresses:

david at zunispirits dot com
or zunispirits at yahoo dot com