---

Click to email your order for this Bear
OR email us at zunispirits at yahoo dot com
Click here for more "HOW TO ORDER" info

---
The name chrysocolla was first used to describe the stone by Theophrastus, a Greek philosopher and botanist, in 315 B.C. The word was derived from the Greek words chrysos, meaning gold, and kola, meaning glue, referencing the fact that chrysocolla was employed from the earliest times by goldsmiths as an ingredient for solder, called santerna by the Romans, to weld gold pieces together. This fancy gemstone has indeed inspired creativity in many artists, whether they were ancient goldsmiths using it as solder, Renaissance painters grinding it as pigment for paint or modern jewelry designer-artists including it within their florid designs. Chrysocolla, the king of carbonate copper gemstones, is an alluring, vivid blue-green color and is often mistaken for turquoise because they share many visual similarities. It can often be found intermingled with malachite, turquoise and azurite. The rich, vibrant blue and green colors of chrysocolla are reminiscent of looking down upon the earth's surface from space. Pure chrysocolla is too soft for jewelry purposes but it is often found in quartz deposits which makes it hard enough to polish for cabochons. It is often found mixed with malachite, turquoise and azurite. Gem quality chrysocolla is called gem silica chrysocolla which is much harder than common chrysocolla.
Chrysocolla is a copper bearing mineral found wherever copper deposits occur especially in areas of Cornwall in England, in Arizona, Utah, Idaho, New Mexico, Michigan, and Pennsylvania in the United States. Chile, Peru, Zaire, Australia, France, Democratic Republic of Congo and Israel as the Eliat Stone. It is a variegated blue and green mixture of chrysocolla and other copper minerals found in the Gulf of Aqaba, near the northwestern end of the Red Sea, but was originally mined in King Solomon's mines in Africa.
Brion has used a beautiful piece of Peruvian chrysocolla for this particular fetish. He has inlaid the rounded eyes of contrasting red coral and the offering bundle consists of a penshell arrowhead, red coral and heishe beads tied with sinew. The fetish is signed B Hattie Zuni on the bottom. Yet another quality fetish by Zuni carver Brion Hattie.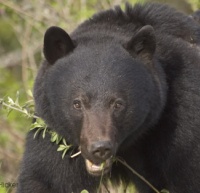 If you would like to read more about the Bear's characteristics and attributes click here. And click here to hear "Bear" in Shiwi, the language of Zuni.
Video: No, but view other videos here.
Zuni Carver: Brion Hattie
Dimensions: 1 5/8"L x 1 1/8"T x 11/16"W
Shipping costs: $10.00 + depending on your location
Plus 6.75% state sales tax to Texas residents!
Please keep in mind that we ONLY accept online payments (credit/debit/e-check) via www.paypal.com. You may send your check or money order if you prefer a manual payment. Just alert us to that fact when you place your order. Additionally, please remember that we ship ONLY via USPS. Domestic parcels go via Priority/insured. Foreign parcels can go either Priority International (NO INSURANCE) or via Priority Express (INSURED up to $500.) Shipping prices are determined by the value of your parcel.




Need more information? Order link won't work? Have a question about ordering, payment or shipping? Email us! If the link will not work for you, here are our email addresses:

david at zunispirits dot com
or zunispirits at yahoo dot com
The Zuni Fetish Story
If you're new to Zuni fetish collecting and interested in learning more about them, we have written a short article about Zuni fetishes and what they mean to the Zuni culture. CLICK HERE to read the article on Zuni fetishes.

Zuni Fetish Meanings
We've written this article to inform Zuni fetish collectors about the specific meanings and attributes of the more traditional Zuni fetish carvings. CLICK HERE to read the article on Zuni fetish meanings.

The Zuni Language
If, as a Zuni fetish collector, you haven't had the opportunity visit Zuni Pueblo but would enjoy hearing some words in the Zuni language, we hope you'll findthis article interesting and informative. CLICK HERE and turn up your volume to enjoy!
The Zuni Spirits Blog
In an effort to keep our collectors informed of new arrivals, posts of interest to Zuni fetish collectors, the latest critters to visit our east Texas woods, rants, raves and rambles will be published HERE at the Zuni Spirits Blog. You may subscribe (& unsubscribe) at this link.