---

S O L D

---
Quality natural turquoise is getting harder and harder to find. Many tuirquoise mines have completely been depleted and are now closed. The turquoise currently coming out of other mines is of lower quality than was once produced. As a result over 90 percent of turquoise today is treated in some way or another. It should be noted that turquoise has been treated for thousands of years, usually with waxes and oils. Modern techniques represent advances on old solutions. Furthermore, many of the various types of gemstones sold these days have been treated in some way to harden them and create clearer crystals and heat treating is especially common. Stabilized stones are still a natural turquoise, usually in nugget form, that is too porous or soft to hold a luster. It is therefore submerged into a stabilizing compound, frequently an epoxy resin. The natural capillary action of the porous stone draws this stabilizing compound throughout the stone, it is then dried. Please note that the turquoise has not been altered but rather, the pores of the stone have been filled with a clear resin that makes the stone usable. If this type of turquoise were not on the market, many jewelry artisans would be unemployed.
Fetish necklaces by Juana are usually theme-oriented and here she has paired bear and wolf as the animals to portray. It also appears that the turquoise is of the same variety for both the fetishes and the heishe beads and it is of the stabilized type as should be expected. She alternately staggered the bears and the wolves on each side and the central fetish is a bear. The heishe used are the quality beads from Santo Domingo Pueblo. The clasps of the necklace is finely finished with handmade sterling silver findings and chains and has an adjustable length added chain to fine tune the clasp to fit different heights and proportions to the purchaser of this beautifully rendered Zuni fetish necklace. This necklace was acquired by us in the spring of 2007 and has been in the collection of a good friend in California who is downsizing as many Zuni fetish collectors currently are.
The eyes of the fetishes are inlaid of jet. The length of the center bear is 1 5/16 inches. The necklace is rather heavy at 5.4 ounces. None of the wolves or bears are signed which is to be expected and typical of the carver and the family. My research shows there are currently no fetish necklaces by Juana Homer on the market today, so do not let this gorgeous piece of Zuni Puebloan art pass you by.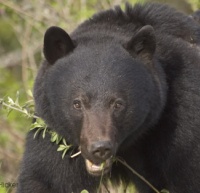 If you would like to read more about the Bear's or Wolf's characteristics and attributes click here. And click here to hear "Bear" in Shiwi, or here to hear "Wolf" in Shiwi, the language of Zuni.
Video: No, but view other videos here.
Item: Bear & Wolf Fetish Necklace
Dimensions: 17 - 18" drop
Center Bear: 1 5/16" Long
Shipping costs: $17.75 + depending on your location
Plus 6.75% state sales tax to Texas residents!
Please keep in mind that we ONLY accept online payments (credit/debit/e-check) via www.paypal.com. You may send your check or money order if you prefer a manual payment. Just alert us to that fact when you place your order. Additionally, please remember that we ship ONLY via USPS. Domestic parcels go via Priority/insured. Foreign parcels can go either Priority International (NO INSURANCE) or via Priority Express (INSURED up to $500.) Shipping prices are determined by the value of your parcel.




Need more information? Order link won't work? Have a question about ordering, payment or shipping? Email us! If the link will not work for you, here are our email addresses:

david at zunispirits dot com
or zunispirits at yahoo dot com
The Zuni Fetish Story
If you're new to Zuni fetish collecting and interested in learning more about them, we have written a short article about Zuni fetishes and what they mean to the Zuni culture. CLICK HERE to read the article on Zuni fetishes.

Zuni Fetish Meanings
We've written this article to inform Zuni fetish collectors about the specific meanings and attributes of the more traditional Zuni fetish carvings. CLICK HERE to read the article on Zuni fetish meanings.

The Zuni Language
If, as a Zuni fetish collector, you haven't had the opportunity visit Zuni Pueblo but would enjoy hearing some words in the Zuni language, we hope you'll findthis article interesting and informative. CLICK HERE and turn up your volume to enjoy!
The Zuni Spirits Blog
In an effort to keep our collectors informed of new arrivals, posts of interest to Zuni fetish collectors, the latest critters to visit our east Texas woods, rants, raves and rambles will be published HERE at the Zuni Spirits Blog. You may subscribe (& unsubscribe) at this link.




***************
^ Back to the top ^


***************



ZUNI SPIRITS - FINE ZUNI FETISHES DIRECTLY FROM ZUNI PUEBLO, NM
P. O. Box 337, Grapeland, TX 75844


All rights reserved © - Zuni Spirits & David Austin Riggs - 1999 - 2012
Celebrating 13 years of PASSION for Zuni fetishes!
Page last updated: