---

Click to email your order for this Mountain Lion
OR email us at zunispirits at yahoo dot com
Click here for more "HOW TO ORDER" info

---
Once someone asked if we had ever seen a Jeff Tsalabutie fetish with carved teeth like this bear and lion have here. It was what had caught their eye about the piece in the first place. The question reminded me of a buying trip in which I had purchased a rather large yellow serpentine mountain lion from Jeff's uncle, Gibbs Othole, that had an open mouth and accurately carved teeth. Gibbs is well-known for his teaching abilities with his family of Zuni fetish carvers. This sculpture has animals which have smaller heads than the Gibbs lion but it is simlarly carved but in more compact and crowded mouths. It makes one realize the expertise it takes to use a high-speed rotary drill like a Dremel tool spinning at 10,000 rpm and keep the teeth from flying away as one of the many waste chips do. Drill bits also produce a large amount of heat which by itself could crack, discolor or destroy a stone. These artists are indeed scientifically knowledgeable about different rock hardnesses and the geology of stone carving. They are also extremely talented and definitely well-experienced in the design and execution of sculpting rock into collectible works of art. Elahkwa, Gibbs!
One of the many things to love about the artists of Zuni is that they are so eager to tell you about the carving stone, the design they see in it and the meanings of the carvings to them and their People. Also they discuss why they decided to do this or that with each stone, because these rocks really do speak to them, and they love that aspect of the artistic process as much as we love to just look at fetishes in awe and wonder. How cool is it that the sellers of this piece talked to Jeff personally about this piece? Jeff actually told the them that he had named it "The Secret Sharers". Quite a gift, one could say.
From the body language that these two characters make it appears that the bear IS receiving whispers from the lion. What do ypu suppose is so important as to require a whisper? This sculpture is well designed and has the superb fit and finish we have all become accustomed to seeing from this artist and his family. From the bears arms wrapped around the lion to the tail wrapped up and over the back and then around the lions leg, Jeffrey utilized the stone with the finess of a true artisan taught by the master, just as the stone told him to do.
This is a stabilized green Chinese turquoise specimen with a matrix of oranges, reds, browns and blacks. The eyes are inlaid of highly contrasting red coral. It weighs in at 4 ounces or 1/4 lb! The sculpture is signed Jeff Tsalabutie, Zuni 2001. These two personable critters have got a secret, do you have one or more to share?






If you would like to read more about the Mountain Lion's characteristics and attributes click here. And click here to hear "Mountain Lion" in Shiwi, the language of Zuni.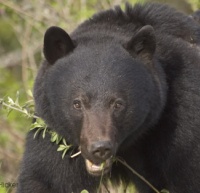 If you would like to read more about the Bear's characteristics and attributes click here. And click here to hear "Bear" in Shiwi, the language of Zuni.






Video: No, but view other videos here.
Zuni Carver: Jeffrey Tsalabutie (1974-2009)
Item: "The Secret Sharers" - Bear & Mountain Lion Sculpture
Material: Chinese Turquoise
Dimensions: 2 1/8"L x 2 1/2"T x 1 1/4"W
Weight: 4 ounces (1/4 lb)
Signed: Jeff Tsalabutie, Zuni
Shipping costs: $24.00 + depending on your location
Plus 6.75% state sales tax to Texas residents!
Please keep in mind that we ONLY accept online payments (credit/debit/e-check) via www.paypal.com. You may send your check or money order if you prefer a manual payment. Just alert us to that fact when you place your order. Additionally, please remember that we ship ONLY via USPS. Domestic parcels go via Priority/insured. Foreign parcels can go either Priority International (NO INSURANCE) or via Priority Express (INSURED up to $500.) Shipping prices are determined by the value of your parcel.




Need more information? Order link won't work? Have a question about ordering, payment or shipping? Email us! If the link will not work for you, here are our email addresses:

david at zunispirits dot com
or zunispirits at yahoo dot com
The Zuni Fetish Story
If you're new to Zuni fetish collecting and interested in learning more about them, we have written a short article about Zuni fetishes and what they mean to the Zuni culture. CLICK HERE to read the article on Zuni fetishes.

Zuni Fetish Meanings
We've written this article to inform Zuni fetish collectors about the specific meanings and attributes of the more traditional Zuni fetish carvings. CLICK HERE to read the article on Zuni fetish meanings.

The Zuni Language
If, as a Zuni fetish collector, you haven't had the opportunity visit Zuni Pueblo but would enjoy hearing some words in the Zuni language, we hope you'll findthis article interesting and informative. CLICK HERE and turn up your volume to enjoy!
The Zuni Spirits Blog
In an effort to keep our collectors informed of new arrivals, posts of interest to Zuni fetish collectors, the latest critters to visit our east Texas woods, rants, raves and rambles will be published HERE at the Zuni Spirits Blog. You may subscribe (& unsubscribe) at this link.




***************
^ Back to the top ^


***************



ZUNI SPIRITS - FINE ZUNI FETISHES DIRECTLY FROM ZUNI PUEBLO, NM
P. O. Box 337, Grapeland, TX 75844


All rights reserved © - Zuni Spirits & David Austin Riggs - 1999 - 2012
Celebrating 13 years of PASSION for Zuni fetishes!
Page last updated: