What a precious, inquisitive little bear-guy. He's made of antler that has a nice gray patina to it. The bear's head is slightly lifted and turned and his impish face has a curious look about it. The eyes, necklace and bracelet (!!!!) are all inlaid of tiny turquoise settings. Dwight has slightly burnished his nose to give added dimension to the bear's face. Such a cutie and less tha 2.5" tall. Unsigned.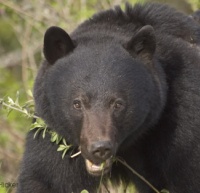 BEAR: The bear represents the western direction in a protective and healing fetish set. He is associated with the color blue and known for his curative powers. Though all bears are healers, white bears are particularly powerful. Characteristics associated with bears include strength, courage, adaptability, healing and spiritual communion.


Click here to hear "bear" in Shiwi, - the Zuni Language.