From the Pueblo of Zuni, long known to be home of some of the most prolific and talented Native American artisans, comes the spectacular work of artists, Norman Cooeyate & Jacqueline Ghahate. Norman is Zuni and Jacqueline is Zuni-Navajo and their collaborative efforts in carving beautiful fetishes quickly gained them a faithful following in the ever-widening audience of enthusiastic collectors of fine Zuni Art.



Their first attempts were some of the finest and most innovative expressions of reverence for a figure long symbolic and highly esteemed in their culture, the Cornmaiden. After the loss of a close friend to illness, Norman turned to carving to console himself and decided the the Cornmaiden would make a fitting rememberance of his friend. When Jacqueline added her jewelry inlay skills to the intricately carved maidens, they were quickly recognized as outstanding, and were soon sought after by Zuni fetish collectors everywhere.



Every maiden is one of a kind - carved with great precision and high attention to detail and authenticity of design and motif. The superb inlay is micro-petite point and utilizes fine, gemstone quality materials. The maidens vary in size from just under 2" to 9" and strike a multitude of poses. Norman's creativity in drawing the maidens from the elk antler is limited only by the shape of the antler itself. And Jacqueline's amazing ability to add color and dimension to Norman's etching is the finest example of the absolute meshing of two creative spirits.



In the past year or so, Norman has begun to carve with more variety. He's added stones to his repetoire (alabaster, Picasso marble, verdite, black Honduran opal, labradorite) and he's begun to carve animals, birds, lizards and frogs. He names many of his carvings and that, along with his and Jackie's signature, is on the bottom of the fetish. Some of his carvings are so rich in detail and symbolism that he provides a story that gives meaning and explanation to the multitude of Zuni icons used.



Neither are fulltime artists. Norman has a demanding position with the medical community in Zuni and travels often to other Native American communities and to Washington. And Jackie is going to school in pursuit of a nursing degree. In addition to being a superb jewelry and inlay artist, she's also a fabulous baker! Jackie and Norman have seven children and four grandchildren between them so life is never dull! Both Norman and Jackie look upon their creative endeavors as a gift, a connection to their ancestors and culture, and way to spend special time with each other. They rarely produce more than 40 pieces per year.



Zuni Spirits is extremely proud to represent their work as we have since we sought them out almost five years ago. In that time they have become dear friends and have welcomed us into their home, shared family celebrations and treated us to special insights about Shalako and the summer pilgrimages. They are not only talented, they are also extremely warm and generous. Dave and I are lucky to count them as our friends.

- Darlene
August 2005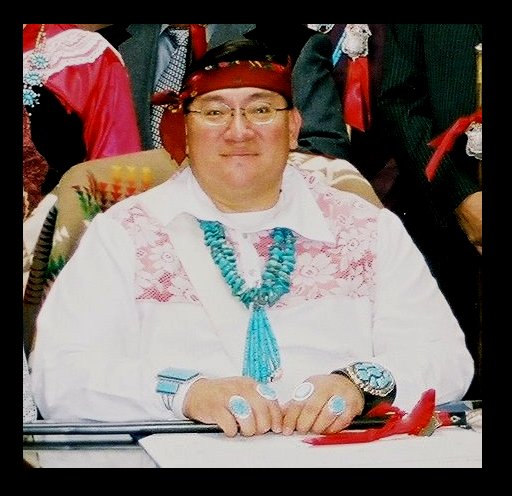 Norman Cooeyate was inaugurated as the Governor of Zuni Pueblo on January 5th of 2007. You may read about the inauguration ceremonies and see photos at this link.