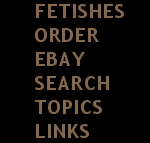 THE WEAHKEE FAMILY:::



Manuel, Sharon, Daniel & Danielle, Heard Museum, 2007
photos courtesy of C. Stevenson
It was our good fortune to meet Daniel Weahkee and his mother, Sharon, at the Dallas Indian Market several years ago. We had stopped to say hello to Veronica Poblano who was in the booth next to them, and then we noticed their fetishes. Of course, the name "Weahkee" jumped out at us and we asked about their relation to Teddy Weahkee, the Gaspers and the Boones. Daniel explained that his father was Zuni and related to the family members that we know (he and Veronica are cousins!), but that he had been raised near Farmington where his mother's family lived. We purchased fetishes that day from Daniel and his brother Nathaniel, as well as some by their father, Manuel. Our friendship developed from that point and a couple of times a year since that meeting, all the Weahkees have sent us fetishes to sell.



Sharon & Manuel Weahkee, Ft. Worth, March, 2006
Manuel and his family live north of the Zuni reservation. He is the grandson of Willie Weahkee who was the brother of Teddy Weahkee. Teddy was the father of Edna Leki, grandfather of Dinah (Gasper) and Lena (Boone). When Manuel married Sharon,he moved north to live near her family to raise his own family. Even so, the Weahkee's retained strong ties to Zuni and returned to the Pueblo often for family gatherings, ceremonies and dances. Manuel carves primarily bears though there are other animals in his repertoire. He routinely uses feathers in his bundles which is unusual by today's standards among Zuni carvers but Manuel does it in homage to a friend who was a Hopi elder. When this gentleman passed away, Manuel, in the Hopi tradition, began to use feathers in his bundles. This showing included two standing bears, which we hadn't seen him carve before, as well as the inclusion of quartz crystals points in the offering bundles.



Daniel and his mother (and sometimes Nathaniel or Manuel) attend several prestigious shows a year (The Heard, Museum of N. Arizona, the Indian Market in Santa Fe, the Dallas Indian Market, the Eiteljorj and the Southwest Museum of Los Angeles) and their show schedule limits the availability of their work online. Daniel carves full-time and is a consistent award winner.




Daniel's Carving Awards
2004
2nd place at the Totah Festival
2004
2nd place at the Totah Festival
2004
1st, 2nd and 3rd at the Santa Fe Indian Market
2003
1st & 2nd at the Dallas Indian Market
2002
3rd place at the Dallas Indian Market
2002
3rd place at the Santa Fe Indian Market
2001
2nd place at the Spirit of America Show
2001
1st place at the Jemez Red Rock Show
2000
Judges award at the Colorado Springs Fine Art Show
2000
1st and 3rd place at the Santa Fe Indian Market
2000
Best of Class at the Dallas Indian Market
2000
1st place at the Jemez Red Rock Show
2000
1st, 1st & 3rd places at the Dallas Indian Market
1999
3rd place at the Totah Festival
1999
2nd place at the Santa Fe Indian Market
1999
1st & 2nd places at the Dallas Indian Market
1999
1st & 2nd at the Mesa Verde Show
1999
1st at the Eight Northern Show
1998
2nd at the Mesa Verda Show
1998
2nd place at the Jemez Red Rock Show
1998
2nd & 3rd place at the Eight Northern Show
1996
1st, 2nd & 3rd places at the San Felipe Arts & Crafts Show
In 2004, he competed to win three ribbons in two categories at Santa Fe's Indian Market. This is quite an accomplishment on any level but considering that Daniel was recuperating from surgery to remove glass and repair tendon damage from an earlier car accident, it's remarkable that he was able to come back so quickly and so strong. Daniel makes a variety of carvings - bears, bobcats, badgers, horses, corn maidens, and 3 or 4 times a year - a frog! He uses heartlines inlaid of many materials on his larger pieces and often includes animals (some directional) in his elaborate offering bundles. Most animals will have an arrowhead offering - many of them hand knapped from chert and obsidian and he often uses elk ivory as well. Additionally, he collects juniper berries (gnawed clean by the squirrels) to drill and use in his beaded wraps. In an effort to make his fetishes more authentic, he hand rolls and drills all of his stone beads and uses those with shell and silver beads to complete his beautiful bundles.


And in Daniel's own words:



"To those that are interested in knowing Daniel Weahkee, this is a bio of a small part of my life. To begin with, I started carving in the Pueblo of Zuni. It was the year 1995. The year after I graduated I went to the Pueblo to see my family. In doing so, we started talking about my great uncle, Teddy Weahkee. He was a carver of cultural items in Zuni fetish. After talking to my fellow badgers, my clan, I walked into the family shop where I carved my first bear. Laughing at the piece for it resembled a pig instead of a bear, I was on my way to becoming the carver I am today.


Today I am carving in a wide variety of stones, wood and antler. The most popular material that I carve is antler. I carve moose, deer and elk antler into various animals and pueblo figures. My culture is also that of Navajo which I also put into a few of my carvings. Most of the large moose antler carvings are that of my own being. As life goes on as day to day, so do my large carvings. The time that it takes to carve these pieces are not short in time. The least time consuming of my carvings are the fetishes.


Fetishes are small animal type carvings of stone. The main fetishes of my Pueblo are the bear, the wolf, badger, eagle, mole, mountain lion, coyote, bobcat and frogs. Today I have carved over 45 different types of animal fetish and still I am asked for some new animal once in a while. Not all animals agree with me for the raven is still flying away and I have been unable to carve one. I am not in doubt that when the right person asks for that fetish I will be able to carve that fetish. So, in conclusion, I am a self-taught carver with ambition to go all out. If you would like to see more, come and see me at the shows."



Nathaniel is the older of the two brothers. He is currently going to school and carving part-time, so does not produce as many carvings as Daniel. His style is similar to his father and his younger brother but is decidedly his own. He does not inlay the eyes and the lines of his carvings are more fluid and stylized. He does use feathered bundles and beaded wraps similar to Daniel's.


Each of the Weahkees have their own style of carving but all are fairly traditional with their work. They successfully blend Zuni/Navajo and even some Plains decorative traditions in their creations. All three sign their work. Manuel's signature is "WEAHKEE", Daniel signs "D. WEAHKEE" and often the year. On smaller pieces that won't accommodate the whole last name he will sign initials, "DTW". Nathaniel signs "N WEAHKEE".


We value the faith and confidence placed in us by the Weahkee family in allowing Zuni Spirits to be their online representative. It's a high compliment when artists express that level of confidence in your honesty and presentation. We are honored.