Hawikkuh Pottery Comes Home To Zuni:::

July 27, 2001:::
by Wells Mahkee, Jr.:::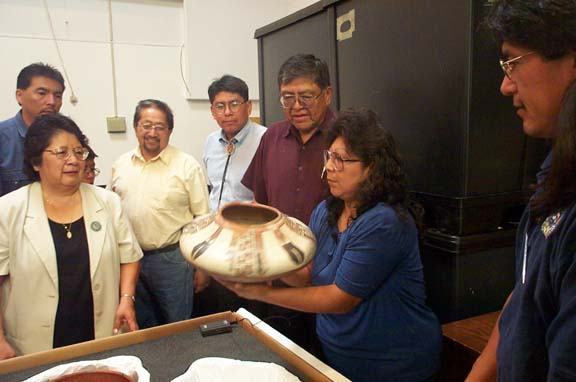 Zuni Potter Eileen Yatsattie takes a few moments to explain some of the unique design elements on a Hawikku pottery piece. Observing Yatsattie are members of the Zuni Tribal Council (from back left): Councilman Arden Kucate, Councilwoman Charlotte T. Bradley, Lt. Governor Barton Martza, Head Councilman Eldred Bowekaty, councilman David Wyaco and Governor Malcolm Bowekaty (far right). Martza accompanied a group to Washington D.C. to select and arrange for certain pieces to be brought back home to Zuni.
Dark rain clouds loomed overhead as a small group of Zuni community members gathered outside the Zuni Christian Reform Church. Despite the gloomy atmosphere, there was a sense of happiness and enthusiasm in the air. The reason was simple.
The A:shiwi (Zuni people) believe that our ancestors sometimes come to check on how we are doing and to bestow blessings upon our people, and they usually come in the form of rain. Needless to say, the Zunis gathered outside the parking lot early Thursday morning had plenty of reason to believe that our ancestors had arrived to welcome back a small piece our illustrious history.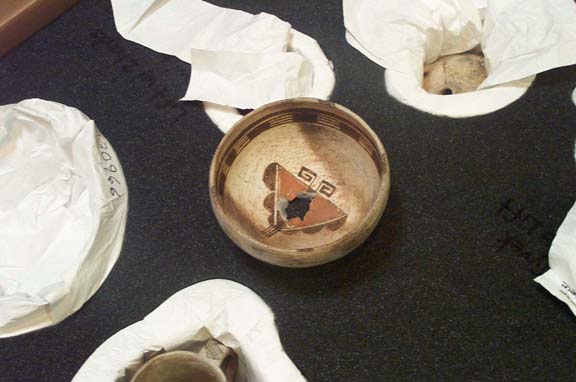 Just one of the over 20,000 artifacts removed from the excavation of Hawikku in 1917 and one of the 70 pieces now being returned for an exhibit in Zuni.
A little over 80 years ago, in 1917, excavations started at the ancestral site of Hawikku. some Zuni elders recalled that as children, they had seen wagonloads of boxes leaving Zuni. Many of them wondered what was in those boxes and where they were going. Back then, our elders had no idea that they were witnessing history. By th end of 1924, approximately 20,000 artifacts had been taken, almost certainly never to be seen again in Zuni.
Almost eighty years later, history is being made again. The Pueblo of Zuni, A:shiwi A:wan Museum & Heritage Center, and the Smithsonian Institution, National Museum of the American Indian (NMAI) are working together to bring some of the items that were in those boxes back to Zuni, in essence, bringing them back home.
Over the past several months, a group of Zunis have been meeting with NMAI personnel in Washington, D.C. to finalize plans to bring approximately 70 pottery pieces and other artifacts that were excavated at Hawikku back to Zuni for a special exhibition and community forum entitled "Hawikku: Listening to Our Ancestors."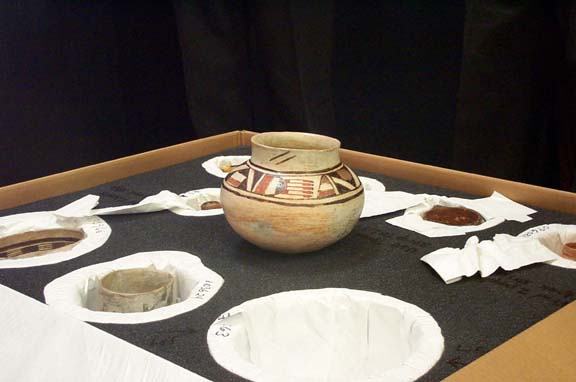 Zuni's contemporary potters will study the design aspects of these ancient pots and most will likely be inspired by these ancient designs, incorporating them in their own creations.
Many people are unaware of the fact that back in its heyday, Hawikku was a central location along a series of ancient trade routes that spanned in all directions. Prior to the unanticipated arrival of Coronado, the A:shiwi were able to sustain themselves quite well with the production of sometimes elaborate pottery vesels which they traded with other tribes for goods such as kilts, sashes and food.
In time, Hawikku had all but established itsefl in the annals of history without even realizing it. Although not much of the original village remains today, the aura of mystery surrounding Hawikku continues to attract many visitors from all directions, much like it had so many centuries ago.
Today, people like Eileen Yatsattie are fast part of today's history, trying to piece together the mystery that our ancestors left behind. When the first "kiva" was opened, a sense of awe filled the room as the centuries-old pottery vessels contained within seemed to tell us the story of its life, a life now filled with happiness now that the spirit of its creator had finally returned home. We could finally sa "Ancestors of Hawikku, welcome home!"
The A:shiwi A:wan Museum invites all interested community members to attend the special forum to be held at the historic Hapadina building located across from Halona Plaza on Saturday, August 11th from 2:00 p.m. to 6:00 p.m. If you should have any questions about this community forum, please call the Museum at 782-4403.
Reprinted with the permission of THE SHIWI MESSENGER
NEWSLETTER | Contact us! | Index | About ZS ///// ZUNI SPIRITS, P. O. Box 337, Grapeland, TX 75844