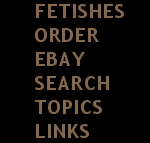 "Dr." Emma's Fetish Hospital :::

Most collectors will agree that one of the nicest bonuses in collecting Zuni fetishes is the "collecting" of the friendships with people who are also drawn to these special works of art. Zuni fetish collectors are a remarkable group of people, and there are threads of gold that bind us together. Love of nature, wildlife and reverence for all living things runs deep in most collectors.
Fetish collectors are passionate, compassionate people who come in all shapes and sizes from various parts of our planet. Some are elderly, many of us are in the middle years, and even the young are not immune to the fascination of Zuni fetishes. Emma Cothren one of these remarkable young collectors. What she lacks in years, she more than makes up for in heart:
"I first decided to create a hospital for broken fetishes when I heard that some people just throw their damaged carvings away. This upset me greatly because, for me, broken fetishes are just as beautiful and special as those which have never been dropped on the floor. The spirit inside the fetish is not damaged, only its physical appearance. Since I believe these wounded or handicapped creatures deserve a home, I decided to set up a Fetish Hospital. Darlene started my collection of broken animals by sending me the first group to repair with super glue, or to accept as is if they could not be repaired. Eventually another collector sent me some amazing, if wounded, fetishes to add to the group. I cherish equally all my fetishes, broken or unbroken, just as we should value all God's creatures with an equal amount of love and respect."

~ Emma
Emma is a 15 year old* sophomore and has many passionate interests, but her heart is in music and theatre. She was recently selected as the arts fellow for her high school class in recognition of her gifts in vocal music. She loves to sing all kinds of music, from intense and difficult 20th-century art songs to brassy Broadway. She was chosen to be a part of a very select choral group in her high school from the moment she arrived, and she traveled with them last Spring to Italy where they sang Renaissance liturgical music in spectacular churches from Milan to Venice.
Since she has been able walk, she has been theatrical, with a special interest in musical theatre. She and her dad (a very special collector as well!) used to spend hours together when she was a pre-schooler watching opera videos. Lohengrin, Don Giovanni, and Il Trovatore were her favorites, but she also loved Wagner's Ring cycle. Currently she participates in three or four stage shows a year,and she was chosen to be part of a young women's acting ensemble workshop at a Philadelphia area theatre company. Her dad tells me that his favorites among her roles include Frederica in Sondheim's A Little Night Music and Brigitta in the Sound of Music.
He shared with me that Emma is one of the most sensitive and empathetic humans that he has had the pleasure of knowing. He also tells me this about Emma: "She loves to weigh moral decisions and fight for the right; I hope she will be on the Supreme Court one day." He admits his own influence in Emma's growing interest in Zuni fetishes, though Emma has loved sparkling stones since she was a toddler.
The idea for the fetish hospital happened when a lovely Jayne Quam jet fox pair was dropped and broken here at Zuni Spirits. Of course, broken fetishes are never sold, but I sent the pair to Michael when he expressed an interest in it, despite the calamity. He and Emma worked together cleaning off the surplus super glue, and she thought it was so tragic that breaking would devalue this carving since it seemed just as special to her, maybe even more special because of the love expended to put it back together. She casually said to her dad that if folks wanted to discard them, she would be happy to accept them, house them, repair them, love them. And from there the idea took off!
Broken fetishes happen. We sometimes lose some in the shipping process and often, for no apparent reason (change in humidity? elevation?), a tail will fall off, a paw breaks. Now, when these tragedies occur, I take comfort in knowing that, if sent to Emma, these broken guys will still receive their fair share of love and respect.
*Emma is now a college student! After this story was published her dad reports she received many bruised fetishes to repair and care for.