A Zuni Fetish Collector Attends Tokyo Gem Show :::

Akiko Kikuchi is one of our friends who lives in Japan and collects Zuni fetishes. She works as a free-lance interpretor, which will explain her superb English! When she mentioned she and another collector/customer, Yuzuro Hino, might attend the 2001 Tokyo Gem Show, I asked Akiko to write an article and asked Yuzuru to snap some photos. Yuzuru is a professional artist who loves stones ... and Zuni fetishes! I thought you collectors might like to see what a gem show in Japan looks like!
~ Darlene
The 10th International Fossil & Mineral Show
- Dec. 14 - 17, Tokyo, Japan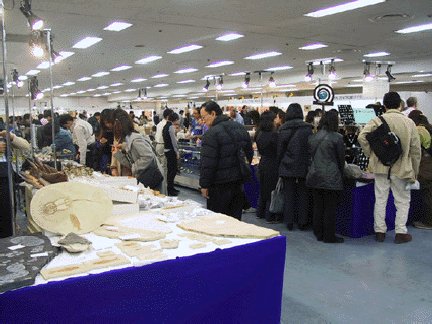 SPECIAL EXHIBIT:
Coelacanth, a well-known "living fossil" species, has gone through a long history of evolution since its appearance on this planet approximately 350 million years ago. The fossils of coelacanth are the centerpiece of the show this year.
Commemorating its tenth anniversary, International Fossil & Mineral Show will have on display a wide variety of coelacanth fossils found in countries including Canada, Germany, Brazil, USA, France, Madagascar, and Morocco, including some huge specimens never shown before in Japan.
Olivine: Olivine, also known as peridot, is a mineral which, among the different constituent materials forming the earth, plays a major role in the mantle convection under the earth's crust. Some display specimens and lectures will be available."
...so the brochure went. But the moment we walked into the exhibition hall, we forgot all about coelacanth and the small scientific display area on olivine (no offense, guys)!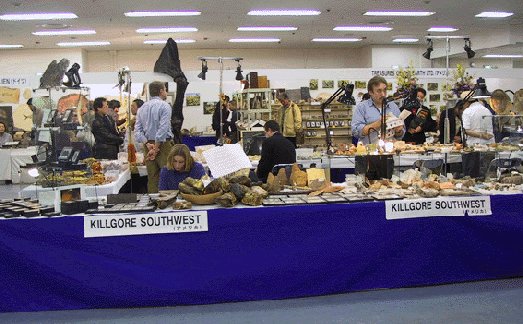 The show was held in quite a large exhibit hall packed with traders from all over the world. Traders from overseas numbered 45, and those from Japan counted 94. Some were selling gems and jewelry pieces, some specializing in fossils of ammonite and dino, and others were selling simply stones, stones, stones; some chunks (in my lay person's eyes) might produce some fine Zuni fetishes in the hands of our favorite carvers!
My friend, another Zuni fetish collector, was interested in finding some chunks of rock which he might want to use for his creative works of art, and my hubby more into gems and jewelry... and I was interested in both. So I was quite busy checking out all the gems, and chunks of stones, including beautiful lapiz, fluorite, chrysocolla, or labradorite... endless number of stones, to size up what animals may be "hidden" and may be discovered by an artist.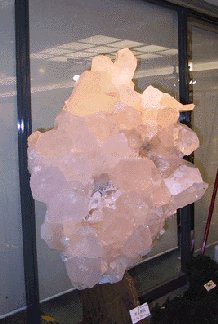 One trader was kind enough to explain to us what kind of pieces were good for cutting out suitably sized pieces for carving, or for gem pieces, and what kind of care you needed to take. Not that I bought any, but it was simply fun to imagine what may come out. Among the gems/jewelry, they had some beautiful amber, bi-color tourmaline, green peridot, and larimar. One gem that caught my attention in particular was "paraiba tourmaline" from Brazil, with the fluorescent blue-green shine. That was the highlight of the day for me... but a small gem comes at a hefty price of (get ready) approx. 20,000 dollars! The one that the seller brought out to show me, seeing the disappointment in my eyes, was, well, another piece with a good quality, but still cost 2,000 dollars or so.. so I split before she took out the calculator to come up with a discount.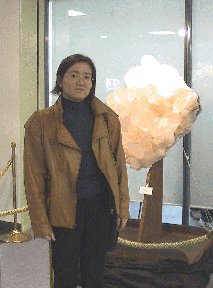 After walking around for a few hours, our eyes started to get used to the sight of so many stones and gems and ourselves started to get dizzy, so we went out for a coffee to calm down a bit. Later we went back in to see if once again some stones might (just like fetishes do) smile at us and say they want to come home with us, but there were soooooooo many "nice" ones that we couldn't make up our minds. Well, I have a feeling that my friend might venture out once again on the last day of the exhibition to check out some things once again... for my husband and myself, just having been able to see so many beautiful stones (and it's amazing that those beauties come right from the earth that we live on, having been formed through aeons of time!) at once was simply a pleasure.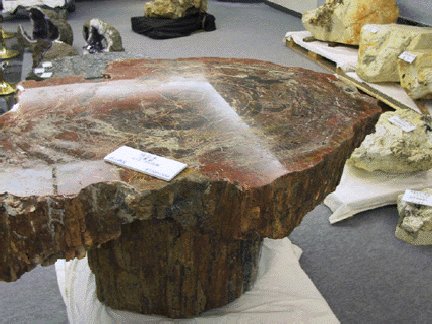 The show seems to be held at the same venue every year, so we will see what might come around again next year!
Contact us! | Index | About ZS ///////////// ZUNI SPIRITS// P. O. Box 337, Grapeland, TX 75844....... 936 687 2994
....... © 2000 - 2007