---

S O L D

---
Barlow passed away in 1982, long before Zuni fetish collecting became the popular collecting genre in Native American art that it did become in the late 80s. The Wall Street Journal published a report on the "new artform" and then the internet made it much more available to the masses as most collectors did not travel to the Southwest often enough to provide the supply of fetishes found today. Of course, it was not a new artform as native tribes across the country have been using Zuni produced fetish carvings for many years in ceremonial functions and in everyday uses such as for hunting.
Acoma jet differs from the common Pennsyvannian jet in that Acoma jet has more imperfections that translate to the surface during the polishing process than the common jet. It makes for an older looking carving no matter what the age.
The eyes and horns are made of Sleeping Beauty turquoise and the fetish is unsigned. One can see the influence Barlow's carving style had on Andres and Stewart in their buffalo carvings.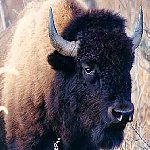 If you would like to read more about the Buffalo's characteristics and attributes click here. And click here to hear "Buffalo" in Shiwi, the language of Zuni.
Video: No, but view other videos here.
Zuni Carver: Barlow Quandelacy (d.)
Dimensions: 2 5/16"L x 1 5/16"T x 5/8"W
Shipping costs: $11.25 + depending on your location
Plus state sales tax to Texas residents!
Please keep in mind that we ONLY accept online payments (credit/debit/e-check) via www.paypal.com. You may send your check or money order if you prefer a manual payment. Just alert us to that fact when you place your order. Additionally, please remember that we ship ONLY via USPS. Domestic parcels go via Priority/insured. Foreign parcels can go either Priority International (NO INSURANCE) or via Priority Express (INSURED up to $500.) Shipping prices are determined by the value of your parcel.




Need more information? Order link won't work? Have a question about ordering, payment or shipping? Email us! If the link will not work for you, here are our email addresses:

david at zunispirits dot com
or zunispirits at yahoo dot com