---

S O L D

---

---
This medicine bear has many things going for it. It has the matrix "bark" of the Mother-of-pearl shell integrated into the surface of the gold-lipped side. Also on that same side Stewart has inlaid a piece of Sleeping Beatuy turquoise and a piece of red coral into the surface of the medicine bear, though it is a puzzling practice that has not been seen before. The white side of the bear is inlaid with a Sleeping Beauty heartline/breathline, which is the trademark of the Zuni medicine bear design. It has been the iconic symbol of fetish carving and has endearded Stewart to the fetish collecting community over the years.
The eyes are inlaid of Sleeping Beauty turquoise as well. The fetish is initialed SQ Zuni which is a recent habit of both carver and family of late. This would make a really great pocket/purse fetish and has the white bear healing quality going for it too!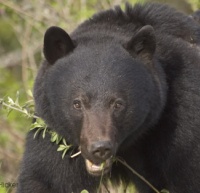 If you would like to read more about the Bear's characteristics and attributes click here. And click here to hear "Bear" in Shiwi, the language of Zuni.
No.: 12225 |



---

S O L D

---

| How to order

Video: No, but view other videos here.

Zuni Carver: Stewart Quandelacy

Material: Mother-of-pearl

Dimensions: 1 7/8"L x 1 11/16"T x 1/4"W

Shipping costs: $10.00 + depending on your location

Plus 6.75% state sales tax to Texas residents!




Please keep in mind that we ONLY accept online payments (credit/debit/e-check) via www.paypal.com. You may send your check or money order if you prefer a manual payment. Just alert us to that fact when you place your order. Additionally, please remember that we ship ONLY via USPS. Domestic parcels go via Priority/insured. Foreign parcels can go either Priority International (NO INSURANCE) or via Priority Express (INSURED up to $500.) Shipping prices are determined by the value of your parcel.




Need more information? Order link won't work? Have a question about ordering, payment or shipping? Email us! If the link will not work for you, here are our email addresses:

david at zunispirits dot com
or zunispirits at yahoo dot com