---

S O L D

---
Dinah is the sister of Lena Boone and they both were strongly influenced by the carving style of therr mother, Edna Leki (d.). This is a bulky frog made from black and white Picasso marble and weighs in at a hefty 6.1 ounces! It is a quirky piece of that Utah stone having angular chunks in the mix which is kind of unique for Picasso.
It was made later in their shared carving careers having the silver medallion that they started utilizing just before the departure of Pete (d.). He is greatly missed by the collecting community as well as the family and the tribe.
The eyes and nostrils are inlaid of Sleeping Beauty turquoise and the elaborate offering bundle consists of a Mother-of-pearl arrowhead with branch red coral, turquoise and heishe beads tied with sinew. The sterling badge is initialed in their trademark way G with small P over a D. These Pete and Dinah pieces will become more and more difficult to find as the hardcore collectors whittle down the number of these pieces left on the market. Do not miss this opportunity to add a hefty piece of Zuni fetish carving history to your fetish cabinet!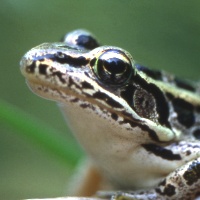 If you would like to read more about the frog's characteristics and attributes click here. And click here to hear "frog" in Shiwi, the language of Zuni.
Video: No, but view other videos here.
Zuni Carver: Pete (d.) & Dinah Gasper
Dimensions: 2 3/4"L x 1 3/8"T x 2 1/4"W
Signed: G p/d Sterling Silver Badge
Domestic Shipping costs: $ 12.50 + depending on your location
Plus state sales tax to Texas residents!
Please keep in mind that we ONLY accept online payments (credit/debit/e-check) via www.paypal.com. You may send your check or money order if you prefer a manual payment. Just alert us to that fact when you place your order. Additionally, please remember that we ship ONLY via USPS. Domestic parcels go via Priority/insured. Foreign parcels can go either Priority International (NO INSURANCE) or via Priority Express (INSURED up to $500.) Shipping prices are determined by the value of your parcel.




Need more information? Order link won't work? Have a question about ordering, payment or shipping? Email us! If the link will not work for you, here are our email addresses:

david at zunispirits dot com
or zunispirits at yahoo dot com