---

S O L D

---
Picasso marble was formed during prehistoric times when lava mixed with limestone. The colors and blustery patterning are from magma being forced through fractures in the limestone, coloring the stone with gray or tan streaks and black lines. It is an astonishing combination of intertwining blacks, browns, and tans that looks much like the famous paintings of Pablo Picasso. Picasso marble can fluctuate from specimens exhibiting fairly harmonized colors of beige to brown or highly dramatic specimens that have black, grey and brown with bold veins of other colors. Some rarer specimens even have greens in them.
Picasso Marble is a rock native to Beaver, Utah. The Gulf of Mexico used to reach to Southern Utah. The shells from tiny sea animals turn into limestone and were covered by lava which filled the seams and cracks in the host stone. This created the colors in the rock. Some colors are pink, yellow, and brown, which contrast with other colors, such as black, brown, white, and grey.
Bennie created this bruin in a standing posture and he is gazing up at the heavens perhaps looking for the Big Dipper? The eyes and necklace are inlaid of Sleeping Beauty turquoise and the fetish is signed Bacy in cursive on the bottom as is his usual manner. It was purchased originally from Shadowlands in 2001.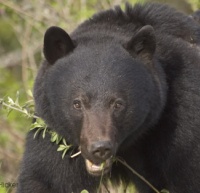 If you would like to read more about the Bear's characteristics and attributes click here. And click here to hear "Bear" in Shiwi, the language of Zuni.
Video: No, but view other videos here.
Dimensions: 5/8"L x 2 3/16"T x 1 1/8"W
Shipping costs: $8.50 + depending on your location
Plus 6.75% state sales tax to Texas residents!
Please keep in mind that we ONLY accept online payments (credit/debit/e-check) via www.paypal.com. You may send your check or money order if you prefer a manual payment. Just alert us to that fact when you place your order. Additionally, please remember that we ship ONLY via USPS. Domestic parcels go via Priority/insured. Foreign parcels can go either Priority International (NO INSURANCE) or via Priority Express (INSURED up to $500.) Shipping prices are determined by the value of your parcel.




Need more information? Order link won't work? Have a question about ordering, payment or shipping? Email us! If the link will not work for you, here are our email addresses:

david at zunispirits dot com
or zunispirits at yahoo dot com
The Zuni Fetish Story
If you're new to Zuni fetish collecting and interested in learning more about them, we have written a short article about Zuni fetishes and what they mean to the Zuni culture. CLICK HERE to read the article on Zuni fetishes.

Zuni Fetish Meanings
We've written this article to inform Zuni fetish collectors about the specific meanings and attributes of the more traditional Zuni fetish carvings. CLICK HERE to read the article on Zuni fetish meanings.

The Zuni Language
If, as a Zuni fetish collector, you haven't had the opportunity visit Zuni Pueblo but would enjoy hearing some words in the Zuni language, we hope you'll findthis article interesting and informative. CLICK HERE and turn up your volume to enjoy!
The Zuni Spirits Blog
In an effort to keep our collectors informed of new arrivals, posts of interest to Zuni fetish collectors, the latest critters to visit our east Texas woods, rants, raves and rambles will be published HERE at the Zuni Spirits Blog. You may subscribe (& unsubscribe) at this link.




***************
^ Back to the top ^


***************



ZUNI SPIRITS - FINE ZUNI FETISHES DIRECTLY FROM ZUNI PUEBLO, NM
P. O. Box 337, Grapeland, TX 75844


All rights reserved © - Zuni Spirits & David Austin Riggs - 1999 - 2012
Celebrating 20 years of PASSION forZuni fetishes!
Page last updated: