---

Click to email your order for this Bear
OR email us at zunispirits at yahoo dot com
Click here for more "HOW TO ORDER" info

---
Every stone that I hold in my hands must be in harmony with me before I start a carving. Only with good thoughts, energy and feelings will I proceed to carve. This helps ensure that the positive energy will be internalized in the finished carving.


- Jeff Shetima -
In our travels to Zuni over the years, that is a common sentiment from all of the artisans we have met in the Pueblo. The sacredness of their artwork to the individual carvers is central to the traditions and the culture of the Zuni People. Jeff is one of the master carvers of Zuni and this fetish sculpture is an earlier work having been completed February 25, 2000. The scene depicts a mother bear guarding her cub.
It was created from a large chunk of Picasso marble from Utah. The fur is finely etched in exquisite detail and it must be hot outside as the mama bear is panting. She is resting on a log and you can see scratch marks in the bark! The raised eyes are inlaid of Sleeping Beauty turquoise and the fetish sculpture is signed Jeff Shetima and a spiral migration symbol and the cardinal directions engraved underneath his signature. It is numbered 1 of 1 ZUNI NM 2/25/00. Here is a fine example of the new millenium of Zuni fetish sculpture. It can be the centerpiece of any Zuni fetish collection.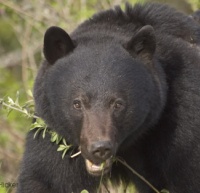 If you would like to read more about the Bear's characteristics and attributes click here. And click here to hear "Bear" in Shiwi, the language of Zuni.
Video: No, but view other videos here.
Zuni Carver: Jeff Shetima
Item: Bear with Cub Sculpture
Dimensions: 4 1/2"L x 2 3/8"T x 3 1/8"W
Signed: Jeff Shetima Zuni NM - Migration Spiral + Cardinal Directions - 1 of 1 2/25/00
Shipping costs: $25.50 + depending on your location
Plus 6.75% state sales tax to Texas residents!
Please keep in mind that we ONLY accept online payments (credit/debit/e-check) via www.paypal.com. You may send your check or money order if you prefer a manual payment. Just alert us to that fact when you place your order. Additionally, please remember that we ship ONLY via USPS. Domestic parcels go via Priority/insured. Foreign parcels can go either Priority International (NO INSURANCE) or via Priority Express (INSURED up to $500.) Shipping prices are determined by the value of your parcel.




Need more information? Order link won't work? Have a question about ordering, payment or shipping? Email us! If the link will not work for you, here are our email addresses:

david at zunispirits dot com
or zunispirits at yahoo dot com